How to find a writer
With over 90,000 screened expert writers, you're sure to find a writer that will be a perfect fit for your projects. Here is a quick guide to finding the right writer on Constant Content.
Writer search


Image 1

The fastest way to find a writer on Constant Content is to use our Writer Search. When you visit the Find a Writer page, you'll see the search box has two main ways of searching (Image 1):
The Subject matter search lets you enter a keyword and the search will look through all articles that have ever been submitted to our site to find the writers who have written the most about that keyword and are the most qualified in our editors' eyes.
The Writer name & bio search lets you search for a specific writer by entering their name, or entering a specific keyword to look through the writers' bios.
When you hit search, you'll be shown a list of writers that includes their name, photo, part of their bio, and details on what times of articles they've written. There are also the following buttons next to each writer:
Request custom content - starts a custom content request with the selected writer
Contact this writer - lets you send a direct message to the writer
Add to team - if you've created a project or team, you can add the writer directly to the team of your choosing. You can also add the writer to your Favorites, which is your default team.
Also take note of the top right corner of the bio picture. If it says 'Available', that writer is actively accepting new requests and inquiries (Image 2).


Image 2
Writer profiles
To help you decide which writers you would like to work with, we also provide detailed writer profiles for you to review. These include a photo, a bio, writing stats, and qualifications. You can also view the writer's catalog of articles for sale to get a sense of their writing style.
You can also Request Custom Content, Contact the Write, or Add to Team on their profile page as well.
Really like a writer's work? Subscribe to their RSS feed on the writer's profile page to be notified when they add a new article to the site.
Advanced search
If you have specific requirements for your ideal writer, you can refine your search using the Advance Search tools. To access this, first make sure you are on the Writer Name & Bio Search, and then click the Advanced Search link under the search button. This will expand the form, allowing you to choose from five parameters that you can use to refine the search results (Image 3).

Image 3

You can refine your search by the following parameters:
Area of study - what the writer studied
Category - what topic the writer is best at writing
Certification - any professional certificates the writer holds
Country - what country to writer resides in
Content type - what types of content the writer typically writes
You don't have to enter any text in the search box when using the advanced search - just select the refinements you want and click search.
Favorite writers and teams
As you are searching for writers, you'll come across the Add to Team button in several places. When you click this button, you'll be asked which teams you want to add the writer to. All customers have a default team called Favorite Writers, which can be accessed on the My Favorite Writers page. On that page, you can easily message your favorite writers and send them requests.
You can also create additional writer teams that focus on specific subjects, clients or projects. To create these teams, you will need to create a Project on the My Projects page. Projects are pages on the site that let you organize your Writing Teams, Requests, Notifications, and Publishing into separate projects. If you create a project and then add a team of writers to it, you'll be able to issue a custom content request for that writing team that only they can see and claim.
Sending your requests out to a team is a great way to distribute your work to writers that you've qualified and trust. Additionally, you can get you content requests completed faster by having multiple team members working on your assignments (Image 4).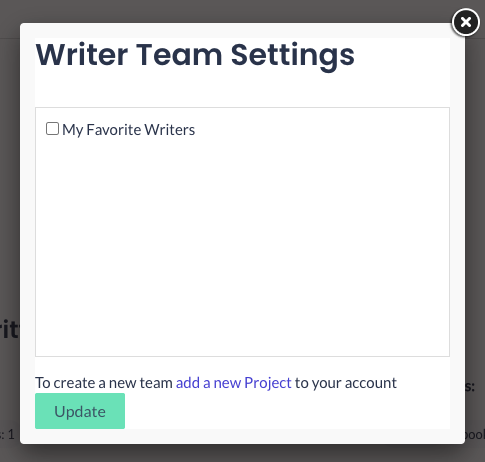 Image 4

The My Favorite Writers page lets you see all writers on your teams and update rosters as needed.
Other ways to find writers
While the Writer Search is the primary way to find new writers on Constant Content, there are a few other methods that can be very useful.
Writers you've bought from
If you buy articles from the Catalog or from Public Requests, you'll likely be buying from writers you haven't worked with before. If you're happy with their work, adding them to one of your teams is a great option. Most writers who have articles for sale in the Catalog will also be happy to accept custom writing requests. Once you've found a writer whose work you're happy with, transitioning to ordering custom content lets you get the same quality, style, and ability found in the writer's Catalog content, but specifically tailored to your needs.
Casting calls
Issuing a Casting Call allows you to reach out to every writer on Constant Content and invite him or her to message you. To do this, visit the Order Custom Content page and under the Public Request section, choose Casting Call. You'll be asked to provide a Title and Description that describes what type of project you're recruiting a writer for. Click Submit and interested writers with the expertise you need will start contacting you.
Remember: your Casting Calls are sent out to all available qualified writers. To save time, make sure to list any specific requirements you are looking for in the Casting Call to prevent your inbox from being flooded with too many responses.