Buy Unique Articles
Unique Content – It's Never Been More Important
Original content has always been important to website owners and bloggers seeking organic search engine rankings. With Google's recent algorithm change, which heavily favors quality and originality, SEO content mills and article directory sites have been severely penalized. According to Sistrix.com, in the days following this algorithm change, article directory behemoth EzineArticles.com, lost 90 percent of its Google traffic. Many other well-known sites suffered similar fates.
Even if you don't operate a content mill or an article directory, this algorithm shift affects your website if you regularly post: articles from article directories, private label rights articles, content from RSS feeds, and other unoriginal content.

How PLR Articles and Unoriginal Content Hurt Websites
When you post unoriginal content to your website, you're one of many – perhaps thousands – of publishers doing the same. If 1,000 web pages contain identical material, how many have a chance of landing on the first page of Google for a given search term? At the most ten. However, Google rarely displays multiple identical pages – and this was true long before the algorithm change. With hundreds of thousands of Web pages competing for similar keyword phrases, duplicate content doesn't stand a chance. Even worse, where individual duplicate pages may have been hurt before, the entire domain could be devalued by Google if the site shows signs of being a content mill or article directory.
The Importance of Quality Web Content
Unique articles and original content are a must if you want to avoid Google's wrath. Quality website content extends beyond rewriting or "spinning" PLR articles for uniqueness. In order to shine, online content should be useful, well written, and relevant to readers. Professional sounding Web content and articles impress readers while original content impresses Google. Writing content for readers first, search engines second is a SEO content strategy that works over the long run. Websites that embrace this strategy have nothing to fear from Google's periodic algorithm changes.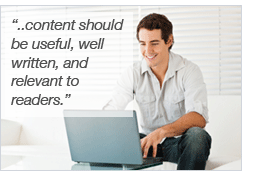 The Constant-Content Solution
Constant-Content's extensive article catalog is loaded with content for websites and publishers that want to stand out. Thousands of unique articles have undergone Constant-Content's strict editorial process. Constant-Content's editorial review team checks all article content submitted for originality using iThenticate, a powerful plagiarism detection tool. Once originality has been established, the editors consider grammar, conciseness, voice, relevance, overall article quality, and more. Only articles that meet Constant-Content's quality standards are accepted.
Once the article content has been approved by the editorial team, the article is available for immediate sale.
Find Original Content on Constant-Content.com
With tens of thousands of unique articles available, finding website content for your site is a simple matter of browsing categories or conducting a search. You can even subscribe to certain categories, ensuring that you're alerted to the freshest content for your niche.
Picking the Right License When You Buy Website Content
Constant-Content offers three licenses: usage, unique, and full rights.
The usage license grants you one-time rights to the article. Consider this license when uniqueness isn't vital such as for print publications or email marketing campaigns.
The unique license grants you exclusive rights to the article. However, you may not alter the content in any way. Choose this license when uniqueness is important, the article is perfect as-is, and you don't mind keeping the author's byline intact.
The full rights license grants you exclusive rights to the article – and full rights to do anything you want with it. Choose this license when uniqueness is important and you want the ability to add keywords, edit the article content, or remove the author's byline.
Putting Original Content to Work for You
Now that you have access to a vast catalog of original content, how will you use it? Unique articles from Constant-Content are ideal for:
Web content
Newsletters
Press releases
Print publications
Blog posts
Ezines
Email campaigns
Article marketing
Buy website content from Constant-Content.com and put your Google algorithm worries to rest by giving Google what it wants: original content.